LIKE A LITTLE HOLOCAUST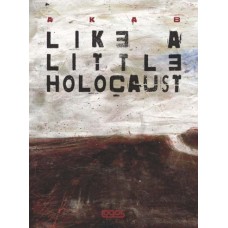 Prezzo:
18,00€
15,30€
Risparmi 2,70€ (-15%) al momento dell'acquisto
Spedizione GRATUITA per ordini sopra EUR 40
"I'm like a king on the net.
On myspace.
Facebook.
Twitter.
Two blogspots.
One splinder.
Three flikr.
One tumblr.
One youtube channel.
I'm also moderator in various forums.
I never leave home."
23 illustrations.
23 stories.
23 fragments of lived lives crystallised into words.
23 little bits of humanity.
No frills attached.
No mediation.
Crude and brutal realities.
Each in its own different way, 23 love stories.
Come un piccolo olocausto (Like a miniature holocaust) is the first volume of Mithra, the new contemporary narrative series launched by Logos ILLUSTRATI. A series dedicated to the beauty of reality, of raw vision. Without veils. Writing on the borderline between narrative and poetry. Stories in verse, narrative poems. New parameters are needed to define Akab's work: shunning descriptiveness, it registers snapshots of often anonymous individual everyday lives.
AkaB (Milano, 26/07/1976) is one of the founders of Shok Studio. He has collaborated with many of the principal US publishers, such as Marvel, Dark Horse, DC Comics. In Italy he has participated in various projects including Nixon, Lamette, LaScimmia, Monipodio, Rolling Stone, The Artist, Puck, Mucchio Selvaggio, ilMale, Lolabrigida, Collettivo Mensa, WormGod, InPensiero and El Aleph.
His experimentation has brought him closer to video and cinema, and after a whole series of shorts, and classic or flash animations, in 2003 he wrote and directed Mattatoio (Slaughterhouse), a full-length film selected for the 60th Venice International Film Festival. This was followed by Il Corpo di Cristo (The Body of Christ), selected for the Bellaria Film Festival. His invisible trilogy was subsequently completed by Vita e opere di un Santo (The life and works of a Saint), selected for the Stigma Film Festival in Palermo. He has exhibited many of his monsters generated by reason in numerous different exhibitions. Since 2010 he has been a member of the Dummy collective. His blood group is 0 Rh-maybe.
His books for #logosedizioni are: Monarch, Like a little holocaust, (also available in italian, french, spanish) A masked man, (also available in italian, french, spanish).
#ILLUSTRATI #logosedizioni
Dati Libro
Autore
AkaB
Collana
#ILLUSTRATI
Anno di pubblicazione
2012
Copertina
brossura con ali
Dimensioni
cm 16,5 x 23,0
Pagine
160
Lingua/e
inglese
Peso
0.45 kg